Core Team #supporthero
Charlie Wong – He holds Masters in Counseling from Open University Malaysia and is a registered counselor. Charlie has been working with the marginalized population (racial minorities, homeless, drug addicts, and physically and mentally challenged persons) since 2014. His work includes promoting self-regulation skills, changing behavior and educating individual skills to support development as well as independence.
Nor Azlina Binti Samat – She holds a Bachelor's degree in Business from Universiti Putra Malaysia. She has 17 years of experience as an administrator, having worked in the position in a company in the recycling business. She supports parents, children, teachers and specialists in their learning journey with the organization.
Allyssa Shannen Boudville – She is currently undergoing her special education diploma studies. Being the youngest member of the team, she represents the hope of the team in championing the change we want to see in the industry. She supports all team members in day-to-day operation, from administration to teaching preparation and academic support.
Academic Support Team #academicsupport
Nur Hani binti Sharaf – She holds a Bachelor's Degree in Psychology from Monash University and is currently pursuing her Masters in Educational Psychology. She believes that every child has the potential to learn. She has been encouraging growth in children through the provision of unique and varied styles of learning.
Gabriel Nathan – He is passionate about working with children with special needs and in helping them and guiding them through their challenges and development. His experience includes working directly with children with special needs in an inclusive mainstream school where he helped them overcome their challenges.
Ng Chui Ting – She holds a Bachelor's Degree in Social Science (Honors) Psychology from Universiti Tunku Abdul Rahman and has been working with children with special needs since 2013. Her experience includes early intervention and use of kinesthetic learning strategies to support children's learning, growth and development.
Behavior Management Team
Michelle Siew – She holds a Diploma in Learning Disorder and Child Psychology from CAE Malaysia. She has been working with children with Autism Spectrum Disorder for the past five years. Her main responsibilities are to conduct one-to-one sessions, implementing IEPs and provide support to parents. Currently, she is pursuing her Master degree in Special Education from University of Malaya and Board Certified assistant Behavior Analysis coursework (BCaBA).
Sai Govindh M Sunderesvaran – He holds a Master's degree in Cognitive Neuropsychology from the University of Kent, Canterbury. Currently studying behaviorism, he applies scientific approaches to behavior modification such as Applied Behavioral Analysis, and implementing Cognitive Strategies to improve cognitive abilities of individuals with learning difficulties.
Syamira Nazri – She holds a Bachelor of Art majoring in Psychology from The University of Queensland and completed Board Certified assistant Behavior Analyst (BCaBA). She has worked with client with special needs age 3 years old to 21years old in various settings since 2017. Using ABA approach, she conducts one-to-one session to improve their skill as well as managing their behavior.
Specialists and Therapists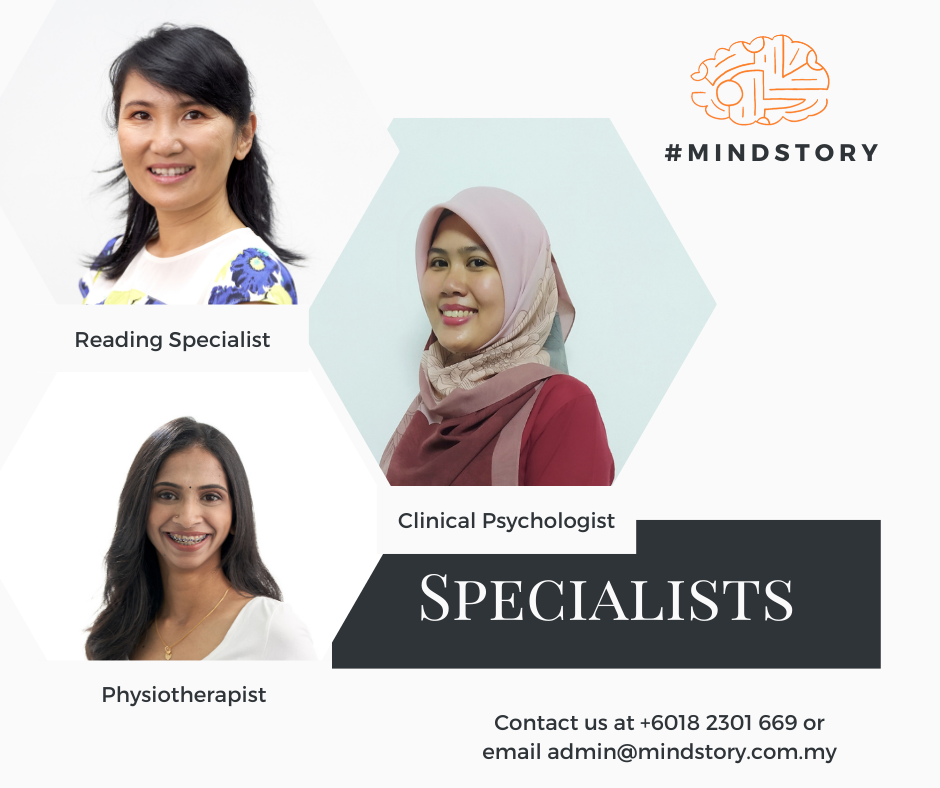 Sarine Tan – She holds a Master of Education from Open University Malaysia and a certified reading therapist from Phono-Graphix Reading Company. She is also currently pursuing her PhD with University Malaya. She is an educator, a trainer and a lecturer. She has over 15 years of experience working with children with learning difficulties and their caregivers. She has been providing training to early childhood and special needs educators since 2008. She specialises in child development and special education, and is experienced in developing education programmes that enhance the social skills of children.
Nurul Liyana Nurulhuda – She holds a Master in Human Sciences from International Islamic University Malaysia. She has been working as a clinical psychologist since 2018, supporting assessment and intervention cases from various group and ages. She is capable in assessing behavior, emotional and psychological issues and in supporting parents in caring for their children with special needs.
Shobeni A/P Arunasalam – She holds a dual degree in physiotherapy from Anglia Ruskin University and MAHSA University. Her experience of having worked in a hospital environment has equipped her with the skills and confidence to assist individuals who require various physiotherapy routines. She enjoys working with children, as she is deeply committed to give them the holistic care they so rightfully deserve.
Nur Alia Syuhada – She holds a Bachelor's degree in Occupational Therapy from Universiti Teknologi Mara. She is very interested and passionate to help children with special needs. Her skills and experiences are to help children with special needs to perform functional activities independently as much as they can. She also gives support for parents to manage their special kids.
Piriya Dharshini Jaganathan -She graduated from Sri Ramachandra University in Chennai, India with a Bachelors in Audiology and Speech Language Pathology in the year 2017. She is a member of the Malaysian Association of Speech-Language and Hearing since 2017. She dedicates her time to improve children's communication skills and support parents in the process of intervention.
Pua Chee Ling – She holds a Master in Finance from RMIT University, Australia and has been in the education industry for the last 16 years. An educationist at heart, she possesses extensive capabilities, having working in various capacities within the education spectrum. She believes that every child has potential to shine and it is the adult's role to support and guide them to be who they are meant to be.
---
Keen to join our team?
We are currently looking for Speech and Language Therapist (Full Time).
You must have
1. At least a relevant diploma in your chosen field
2. Be willing to work on weekends

Email your resume to admin@mindstory.com.my with your cover letter and resume.